Vaping (e-cigarettes)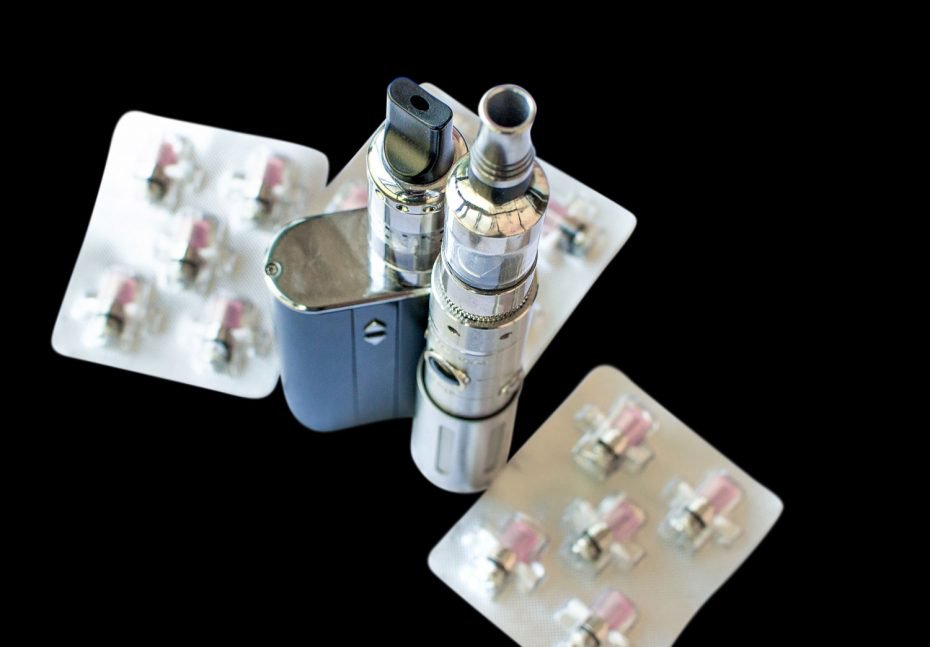 Last published: October 13, 2023
What is vaping (e-cigarettes)?
E-cigarettes are battery-operated devices that are used to heat a liquid to produce a vapour, which is then inhaled – mimicking the act of smoking. This is commonly referred to as 'vaping'.
E-cigarettes are mostly used to vape nicotine e-liquid solutions. Devices can also be used to inhale other drugs such as THC (cannabis)1 or nicotine-free 'e-liquids' which are made from a mixture of chemicals including solvents, sweeteners, and flavourings such as fruit, lollies, coffee or alcohol.2

Devices usually resemble cigarettes, cigars or pipes, as well as everyday items such as pens, USB memory sticks, and larger cylindrical or rectangular devices.3
Other names
Vaping, vape, vapes, pens, pods, Juul, e-hookah, electronic cigarettes, electronic nicotine delivery systems (ENDS), e-cigs, ecigarro, electro-smoke, green cig, smartsmoker. 4, 5
How are they used?
E-cigarettes use heat to transform a nicotine or non-nicotine e-liquid solution into vapour, which is then inhaled.
People vape for various reasons, including:
to help them reduce or quit smoking
belief that they are less harmful than traditional cigarettes
cheaper than traditional cigarettes
taste better than traditional cigarettes.
can vape in places where traditional cigarettes are banned
curiosity
seen as more acceptable than traditional cigarettes.6
Does vaping help people quit smoking?
There is not enough evidence to promote the use of e-cigarettes for the purpose of smoking cessation.7 The Therapeutic Goods Administration (TGA) is yet to approve e-cigarettes as a quit tool.8
While switching to vaping may help some people quit smoking traditional cigarettes, there is concern that smokers may become dual users of both e-cigarettes and tobacco cigarettes and that former smokers who now vape are more likely to relapse to current smokers.7
Is vaping safer than traditional cigarettes?
While it's widely believed that vaping causes less harm than smoking cigarettes because vapes don't contain tobacco (tobacco contains a majority of the toxic, cancer causing chemicals)9-11 – it's still not harmless.
There are known risks associated with any type of nicotine exposure on brain development, meaning that pregnant women and adolescents should avoid vaping.12 Nicotine can damage DNA, promote tumours, and is linked to a number of different cancers.13 There are also risks linked to nicotine poisoning via ingestion and skin contact with the e-liquid solutions.2
The manufacturer quality of vaping devices is highly variable. Significant differences in product designs and the way people use them make it difficult to determine the potential level of nicotine toxicity in each device or liquid.3
Vaping devices can be modified to deliver a higher, more harmful concentration of nicotine and producing more toxic chemical particles in the inhaled vape cloud.12, 14
Unknown chemicals in vapes
With or without nicotine, all e-liquid solutions used in vaping contain a mixture of unregulated and harmful chemicals and additives.
The two main ingredients used in all e-liquids are propylene glycol and vegetable glycerin, which are considered safe in certain food products. However, the health consequences of repeatedly heating and inhaling these chemicals into the lungs is relatively unknown, with some evidence suggesting there is potential to cause harm.15, 16
Vapes may also contain toxins such as formaldehyde, and heavy metals such as chromium, aluminium, arsenic, copper, lead, nickel and tin – all of which cause adverse health effects, including cancer.16 Other chemicals found include volatile organic compounds (common in paint and cleaning products), ultrafine particles (which are damaging to lungs), 2-chlorophenol (used in disinfectants) and other carcinogens.17, 18
Nicotine labelling on vapes can also be inconsistent, with some labels incorrectly denying the presence of nicotine and other potentially toxic chemicals.16, 17
Young people and vaping
Concerns have also been raised about the appeal of vaping products to young people. Companies glamourise their products to appear cool or fun, and create flavours that give off the perception of sweetness (such as candy or fruit flavoured) which appeal directly to young people.19 Concerning trends are being noted in a number of countries showing  uptake of vaping among adolescents and children.6, 16, 20, 21
Vaping and the law – Is it legal?
From Friday 1 October 2021, all nicotine vaping products – including nicotine e-cigarettes, nicotine pods and liquid nicotine – can only be purchased with a doctor's prescription. This includes both in Australia and from overseas. This can be done by:
filling the prescription at a pharmacy (either a physical community pharmacy or an Australian online pharmacy)
importing from overseas websites using the Personal Importation Scheme.22
Nicotine vaping products can only be legally used by the person named on the prescription; they cannot be legally supplied to friends or family members in Australia or overseas. See the Therapeutic Goods Administration website for further information.
Nicotine-free vaping devices and e-liquids can be legally sold and purchased in most states and territories through online retail stores and tobacco retail outlets.
As of September 2020, the laws in each state and territory are as follows:
| | Nicotine E-cigarette | | Non-nicotine E-cigarette | | | Both | |
| --- | --- | --- | --- | --- | --- | --- | --- |
| | Sale/ purchase (without a prescription) | Use | Sale/ purchase | Age restriction | Use | Restrictions on where they can be used | Advertising |
| VIC | No | Yes | Yes | 18+ | Yes | Yes | No |
| NSW | No | No | Yes | 18+ | Yes | Yes | No |
| QLD | No | Yes | Yes | 18+ | Yes | Yes | No |
| WA | No | No | No | - | No | - | No |
| SA | No | Yes | Yes | 18+ | Yes | Yes | No |
| NT | No | Yes | Yes | 18+ | Yes | Yes | No |
| ACT | No | No | Yes | 18+ | No | Yes | No |
| TAS | No | Yes | Yes | 18+ | Yes | Yes | No |
See also, drugs and the law.
Vaping statistics in Australia
In 2019, the proportion of people who had ever used an e-cigarette was 11%.
Of those who had tried e-cigarettes, 18% used them at least monthly and 9% used them daily6
Of those aged 18–24, 64% of current smokers and 20% of non-smokers reported having tried e-cigarettes6
Around 14% of 12 to 17-year-olds have ever tried an e-cigarette, with around 32% of these students having used one in the past month21
Cao DJ, Aldy K, Hsu S, McGetrick M, Verbeck G, De Silva I, et al. Review of Health Consequences of Electronic Cigarettes and the Outbreak of Electronic Cigarette, or Vaping, Product Use-Associated Lung Injury. Journal of Medical Toxicology. 2020;16(3):295-310.
Cancer Council Australia. Position statement - Electronic cigarettes: National Cancer Control Policy 2015 [cited 2020 18 November].
World Health Organization. Electronic nicotine delivery systems. Report by WHO.  Conference of the Parties to the WHO Framework Convention on Tobacco Control; Moscow 2014.
World Health Organization. WHO Study Group on Tobacco Product Regulation: Report on the Scientific Basis of Tobacco Product Regulation. 2008. Report No.: 955.
Positive Choices. Electronic Cigarettes and Vaping: Factsheet. University of Sydney: Matilda Centre for Research in Mental Health and Substance Use; 2020.
Australian Institute of Health and Welfare. National Drug Strategy Household Survey 2019. Canberra: AIHW; 2020.
Banks E, Beckwith K, Joshy G. Summary report on use of e-cigarettes and relation to tobacco smoking uptake and cessation, relevant to the Australian context. National Centre for Epidemiology and Population Health: Australian National University; 2020.
Therapeutic Goods Administration. About e-cigarettes  [updated 17 March 2020; cited 2020 September 8].
National Academies of Sciences E, Medicine, Health. Public Health Consequences of E-Cigarettes. In: Eaton DL, Kwan LY, Stratton K, editors. Public Health Consequences of E-Cigarettes. Washington (DC): National Academies Press (US); 2018.
Glasser AM, Collins L, Pearson JL, Abudayyeh H, Niaura RS, Abrams DB, et al. Overview of Electronic Nicotine Delivery Systems: A Systematic Review. American Journal of Preventive Medicine. 2017;52(2):e33-e66.
St Helen G, Liakoni E, Nardone N, Addo N, Jacob P, 3rd, Benowitz NL. Comparison of Systemic Exposure to Toxic and/or Carcinogenic Volatile Organic Compounds (VOC) during Vaping, Smoking, and Abstention. Cancer prevention research (Philadelphia, Pa). 2020;13(2):153-62.
Pepper JK, MacMonegle AJ, Nonnemaker JM. Adolescents' Use of Basic, Intermediate, and Advanced Device Types for Vaping. Nicotine & Tobacco Research. 2019;21(1):55-62.
Grando SA. Connections of nicotine to cancer. Nature Reviews Cancer. 2014;14(6):419-29.
Yingst JM, Foulds J, Veldheer S, Hrabovsky S, Trushin N, Eissenberg TT, et al. Nicotine absorption during electronic cigarette use among regular users. PLOS ONE. 2019;14(7):e0220300.
Gotts JE, Jordt S-E, McConnell R, Tarran R. What are the respiratory effects of e-cigarettes? BMJ. 2019;366:l5275.
Kelso A.CEO Statement: Electronic cigarettes: National Health and Medical Research Council; 2017 [cited 2020 20 November ].
Chivers E, Janka M, Franklin P, Mullins B, Larcombe A. Nicotine and other potentially harmful compounds in "nicotine-free" e-cigarette liquids in Australia. Med J Aust. 2019;210:127-8.
Office on Smoking and Health. About Electronic Cigarettes (E-Cigarettes): The Centers for Disease Control and Prevention;  [updated 24 February 2020; cited 2020 31 August].
Erku DA, Morphett K, Steadman KJ, Gartner CE. Policy Debates Regarding Nicotine Vaping Products in Australia: A Qualitative Analysis of Submissions to a Government Inquiry from Health and Medical Organisations. International journal of environmental research and public health. 2019;16(22):4555.
Miech R, Johnston L, O'Malley PM, Bachman JG, Patrick ME. Trends in adolescent vaping, 2017–2019. New England Journal of Medicine. 2019;381(15):1490-1.
Guerin N, White V. ASSAD 2017 Statistics & Trends: Australian Secondary Students' Use of Tobacco, Alcohol, Over-the-counter Drugs, and Illicit Substances. Centre for Behavioural Research in Cancer: Cancer Council Victoria; 2018.
Therapeutic Goods Administration. Nicotine vaping products: Information for consumers 2021 [28.09.2021].