October 3, 2017
Being there to reduce mental health and alcohol problems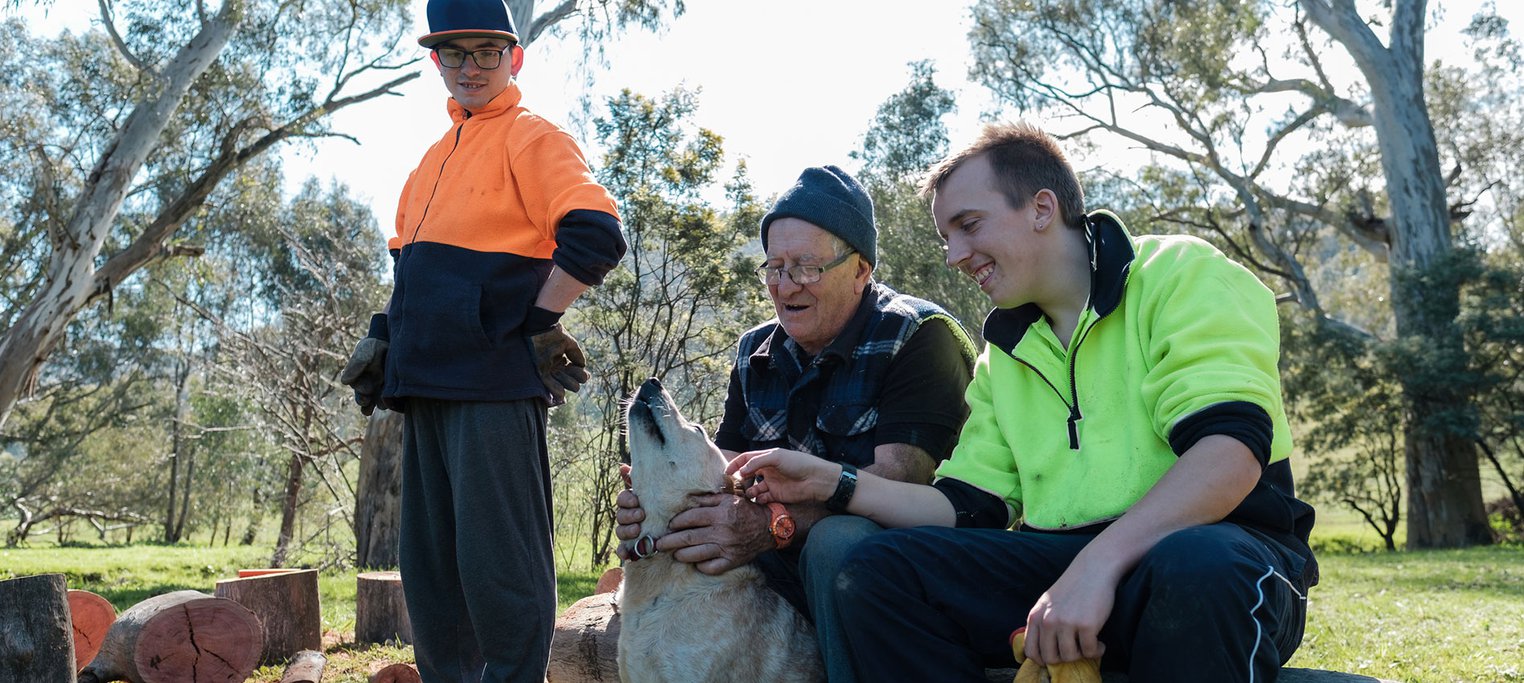 Who do you talk with when you're about to make a big decision? It's all about trust.
Trust makes relationships work: it helps people start a family, buy a house together, or begin a new life overseas.
Trusting relationships are also formed in our local community – in sports clubs, arts groups, volunteer associations and other places where we socialise.
And they're not to be underrated.
Positive relationships are a crucial way for us to better understand experiences of mental health and drug use including alcohol: be these our experiences, or of those around us.
This is particularly important right now – with many Australians experiencing depression, anxiety, and drinking too much booze1.
Learning to listen and support each other are pivotal skills for building trust. It sounds simple, but just being there for each other in our local community is an important step to towards preventing problems with mental health and alcohol – both now and in the long term.
Better understanding the links
We need to better understand the links between mental health and alcohol.
Research has found that roughly one in 20 Australians aged 16-85 reported problems associated with drugs2.
Alcohol-related issues were even more common – and alcohol dependence is an issue for many people experiencing depression and anxiety3.
Drinking too much alcohol can harm individuals and the broader Australian community, and when combined with poor mental health, the harms often become worse:
Risk of suicide increases4
Children in families may be neglected and abused5
Some men have committed acts of abuse and violence with female partners6
Young people generally experience poorer health, reporting more interpersonal and academic problems.7
Medications prescribed for mental health conditions can interact harmfully with alcohol. And as we age, our alcohol tolerance drops, which puts older people at particular risk.
The chicken or the egg: which comes first?
Does too much alcohol cause mental health issues, or vice versa?
The connection between alcohol and mental health is complex.
Some people drink alcohol to 'self-medicate' in an attempt to get relief from things like stress, anxiety and depression.8
But being drunk, or experiencing withdrawal from alcohol, can trigger a variety of mental health conditions,9 or increase the chances of such a condition developing.10 In addition, biological, psychological, social or environmental factors (such as poverty or experiencing a traumatic event) can increase the risk of problems developing.11
If alcohol and mental health-related problems aren't addressed, they can get worse.12
Challenging stigma by building trust
The stigma surrounding mental health and alcohol problems13 is a big challenge for preventing alcohol dependency, depression, suicide, violence and other harms.
Stigma occurs when society creates a sense of shame associated with particular characteristics or human behaviours.14 How someone is described for instance can reinforce their feelings of shame and judgement.
People are less likely to access help for mental health and drug issues if they feel stigmatised.15 Stigma prevents communities from talking openly about mental health and drugs, and this can limit awareness of the help that's available.
Talking about mental health and drugs is not easy.
While Australians are generally supportive of treatment for conditions like depression, stigma still remains a barrier to care – including for drug dependency.16
And mental health conditions are a taboo topic in schools.
Although many people living in rural and regional areas won't seek treatment for mental health issues, they will speak with "trusted professionals" like hairdressers, bank managers, vets and others about their problems.
This trust could be important for challenging stigma about mental health and drug dependency.
Simple things can help: listening more than talking, being non-judgemental, using open-ended questions and spending more time with someone can help build trust, especially when someone chooses to talk about problems they may be experiencing. Active listening is a great way to build empathy and help people feel supported when they are anxious or distressed.
But like riding a bicycle, building trust is a skill, and for many people, takes practice.
Building trust for those ups and downs
Playing sport with others, working at a local charity or community group, and getting involved in arts events are all great ways to build trust, share common interests and feel valued.
Spending time with others in supportive communities can help with overall mental health, and prevent issues associated with alcohol in the long term.
But spending time with others is not "all about me". Simply being there to listen when a friend, team mate, or colleague feels like talking could make a real difference – and start to build the trust necessary for addressing problems with mental health and alcohol.
It's important that we create a culture where everyone is more aware of the importance of reducing stigma, and addressing mental health and alcohol problems without judgement.
What you can do
Listening well and without judgement might seem like something we all do naturally. But they are skills – fortunately there are online guides that step through some of the basics:
Knowing more about the ways your local community groups supports people with mental health and alcohol problems can help too. Speak with a group coordinator or leader about what policies, guides and tools they may have available.
More help and information
Prior, K. Mills, J. Ross and M. Teesson, "Substance use disorders comorbid with mood and anxiety disorders in the Australian general population," Drug Alcohol Rev., vol. 36, no. 3, pp. 317-324, 2017.
Ibid.
Ibid.
V. Nunes and F. R. Levin, "Treatment of depression in patients with alcohol or other drug dependence: a meta-analysis," JAMA, vol. 291, no. 15, pp. 1887-96, 2004.
Coates and D. Howe, "An evaluation of a service to keep children safe in families with mental health and/or substance abuse issues.," Australas Psychiatry., vol. 24, no. 5, pp. 483-8, 2016.
M. Wilson, K. Graham and A. Taft, "Living the cycle of drinking and violence: A qualitative study of women's experience of alcohol-related intimate partner violence," Drug Alcohol Rev., vol. 36, no. 1, pp. 115-124, 2017.
Lubman, N. B. Allen, N. Rogers, E. Cementon and Y. Bonomo, "The impact of co-occurring mood and anxiety disorders among substance-abusing youth.," J Affect Disord., vol. 103, no. 1-3, pp. 105-12, 2007.
J. Khantzian, "The self-medication hypothesis of substance use disorders: a reconsideration and recent applications," Harv Rev Psychiatry., vol. 4, no. 5, pp. 231-44, 1997.
B. Raimo and M. A. Schuckit, "Alcohol dependence and mood disorders," Addict Behav., vol. 23, no. 6, pp. 933-46, 1998.
Teesson, L. Degenhardt, H. Proudfoot, W. Hall and M. Lynskey, "How common is comorbidity and why does it occur?," Aust Psychologist, vol. 40, pp. 81-7, 2005.
Cerdá, A. Sagdeo and S. Galea, "Comorbid forms of psychopathology: key patterns and future research directions," Epidemiol Rev., vol. 30, pp. 155-77, 2008.
H. Freyer, K. C. Morley and P. S. Haber, "Alcohol use disorders in Australia," Intern Med J., vol. 46, no. 11, pp. 1259-1268, 2016.
C. van Boekel, Brouwers, J. van Weeghel and H. F. Garretsen, "Stigma among health professionals towards patients with substance use disorders and its consequences for healthcare delivery: Systematic review," Drug Alcohol Depend., vol. 131, no. 1-2, pp. 23-35, 2013.
F. Kelly and C. M. Westerhoff, "Does it matter how we refer to individuals with substance-related conditions? A randomized study of two commonly used terms.," Int J Drug Policy, vol. 21, no. 3, pp. 202-7, 2010.
van Boekel et. Al., op. sic.
Centre of Research Excellence in Mental Health and Substance Use, "Guidelines on the management of co-occurring alcohol and other drug and mental health conditions in alcohol and other drug treatment settings," National Drug and Alcohol Research Centre, UNSW, Sydney, NSW, 2016.
Related drug information directory reviews
---