Hosting a teenage party
Parties are an important part of a teenager's social life. While the prospect might seem daunting, it's possible to host a fun and memorable party that everyone is comfortable with.
If you're hosting a party at home, you have a legal duty of care to keep guests safe.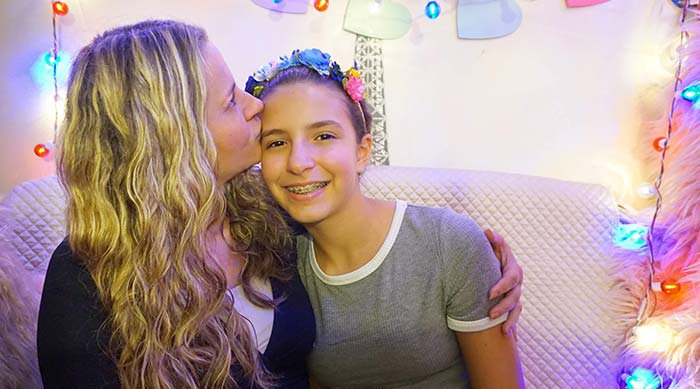 Planning a safe party
The Safe Party Planner is helpful when you're organising a party with your child. It makes sure everyone is on the same page including how alcohol, smoking, and other drugs are going to be managed.
Print off the Safe Party Planner and have a chat with your child – it includes the fun stuff, too, like suggestions for food and activities to enjoy.
Discussing the following can help make sure everyone has the same expectations about the party and has a good time.
Budget: Setting a budget will help decide the number of guests, the location, the type of entertainment, and catering.
Location: While you're thinking about the location, try to consider:
security - how will you prevent gate crashers? (having one entrance helps) If the party's at home, are some areas off-limits? How will you keep your pets safe?
insurance - if the party's at home, find out about your liability insurance cover.
cleaning - who's going to clean up the mess?
neighbours - who needs to be told about the party beforehand?
Guest list: Talk about how many guests you feel comfortable with, their ages, and what standard of behaviour you'd like to set.
Start and finish time: Agree on the start and finish time, including specifics of when the music will be turned off and refreshments stopped. A pre-determined time will make it easier to pull the plug.
Register the party with your local police
It's a good idea because police can provide safe partying tips, let you know of noise regulations, and can help you out if the party gets out of control.
Select a state or territory to find police details:
Invitations
Written invitations have many advantages:
They're a point of contact with other parents, and if you ask them to RSVP on their child's behalf, you can have a chat and exchange contact details.
It's clear that the party is invite only – you can even go a step further and request that invites be shown at the door.
They let guests know what's expected, like dress code, if alcohol will be allowed/provided, and the finishing time.
You have less control over the guest list if you invite via text, email or through social networking like Facebook. If you do use Facebook, make sure the event page is private and invite only.
Make the party fun
Having a theme for the party can help take the focus off alcohol. You can organise decorations, food, drinks and activities that tie in with the theme. It'll help to make it a memorable event, and give your child scope for creativity.
This can be a fun bonding time – you could start a Pinterest board together where you both add ideas. Pinterest is a free and very popular platform that people use to share images, ideas, and plans. You can set up a joint, private board that you both can add to and view.
Keeping guests entertained and busy means there's more to do than drink. Spend some time with your child planning activities like:
games
karaoke
dance music
pool
table soccer
movies
competitions.
There are lots of great DIY activities online, which your child could have fun organising with you and their friends.
There are risks involved if you choose to provide alcohol or allow young people to drink at the party. As the legal host, you're responsible for providing a safe environment and could potentially be held liable if anything goes wrong – even after the party, if guests leave drunk.
Making a decision
When deciding whether to serve alcohol, consider the Australian alcohol guidelines which recommend people under the age of 18 should avoid alcohol.
If you do decide to serve alcohol, perhaps at an 18th birthday party, remember that most states and territories in Australia have secondary supply laws.
This means that it's illegal for you to serve underage guests alcohol without their parent or legal guardian's permission, even if the party is in your home.
It's also illegal for guests to pass underage guests alcohol without this permission. Hefty fines apply for both adults and minors.
Serving alcohol
If you do provide alcohol at the party, it's a good idea to:
tell parents of guests ahead of time
set up an agreement between yourself and your child about alcohol and adult supervision
make sure no one under 18 years is served or given alcohol unless you have their parent's explicit approval
only make alcohol available in one area, and have a responsible adult who isn't drinking as the bartender
only serve low-alcohol drinks, and also have great non-alcoholic options
avoid drinks like punch that could be easily spiked
ensure there's lots of food set up on a visible table or that it's being offered around
try not to serve very salty snacks as they make people thirsty and could cause people to drink more
plan for guests to sleep over if no one can take them home.
Confiscating alcohol and drugs
Even if you decide not to serve alcohol, you might have to deal with guests trying to bring alcohol and drugs to the party. Talk to your child about whether you'll confiscate alcohol and drugs, including what you'll do with these substances.
If you choose to return what's been confiscated after the party is over, you could still be held liable for any accidents that happen after the guests have left. Instead you can consider returning the substance to the guest's parent.
Drunk guests
While you're setting the rules for the party, talk about what you'll do if a guest is drunk. Drunk guests can ruin the party for others and create dangerous situations. As the host, you have the right to send the guest home – but you should organise transport to make sure they get home safely.
Smoking
You may want to set ground rules about smoking, especially if the party is in your home. If you already have rules about smoking at home, they could be used for the party.
Make sure guests know the rules
Once ground rules have been discussed with your child, you need to make guests aware of them. You could do this through a written invitation that asks the parent to RSVP on behalf of their child.
Gate crashers and security
Gate crashers can be a problem at teenage parties, but you can take a few steps to avoid them getting in:
restrict the guest list
if you're having a big party, consider hiring security
only have one entrance to the party, secure the side or back gates if necessary
ask other adults to help you supervise the party and organise for one or more to be on the door
offer around food and drinks throughout the party so you can subtly keep an eye on things
make sure that vehicle access isn't blocked for emergencies
phone police if unmanageable gate crashers arrive.
Safe transport
Being a responsible host involves making sure your guests get home safely. Sometimes it's hard for young partygoers to make good decisions, including which drivers to travel with. It's a good idea for you to:
ask your guests how they're getting home, and who's driving
encourage parents of younger children to pick them up at the end of the party
encourage guests to come by taxi or with a designated driver (watch how much designated drivers drink during the party)
make sure no one has to walk home by themselves.