Alcohol Advertising, Social Media and Young People
Each year the alcohol industry spends more than $100 million on alcohol advertising.
Given how extensive this is, young people (aged 12-24 years) often see many different forms of alcohol advertising (on tv, radio, billboards etc) – which can contribute to them taking up drinking, starting drinking at a much younger age, and engaging in risky drinking behaviours.(1-4)
---
The popularity of social media (Facebook, Instagram, Twitter, YouTube, etc.) has also created a unique digital environment where young people can be influenced by alcohol-related messages.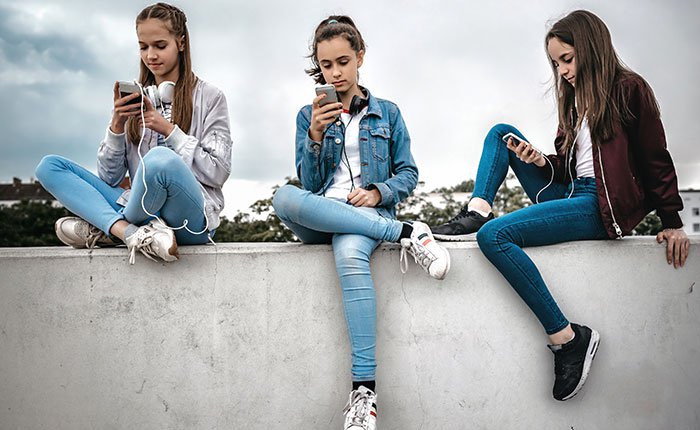 Alcohol brands (or 'big alcohol' companies) contribute to social media channels by using both direct (more obvious) and indirect (subtle) advertising techniques. This on-line content regularly breaches advertising laws and usually goes unchecked.1, 2
In these pages we will:
explore alcohol advertising to young people through social media, why it is difficult to regulate, and why it can be harmful
look at the different advertising techniques used by 'big alcohol' brands on social media, and how they can impact drinking behaviours – especially among young people
consider what can be done by you and the young person in your life to reduce exposure to – and the impact of – these advertising practices.
The effectiveness of alcohol advertising on young people
Young people can be particularly influenced by alcohol advertising – especially as they don't tend to recognise the intentions of advertisers until they are around the age of 16.7
They also often have stronger feelings of self-consciousness and concerns around identity8, which alcohol advertising can attempt to tap in to.
For example, alcohol ads often show drinking alcohol as something that will enhance mood or well-being, as well as contribute to positive emotional experiences, friendships, and achievement – all ideas which young people find appealing.4-7
Young people's exposure to alcohol advertising can increase:
intention to drink alcohol
positive beliefs about alcohol
likelihood of underage drinking
level of alcohol consumed
likelihood of hazardous or binge drinking.5, 8-10
Regulatory challenges
Alcohol advertising and marketing in Australia is self-regulatory and voluntary. This means the alcohol companies themselves are in charge of making sure their own Advertising Code is not breached.
The Code has 'four key standards' of responsible promotion:
content cannot target minors or young people under 25 years of age
content cannot encourage heavy or excessive drinking
content cannot promote alcohol as a mood enhancer, therapeutic solution, or contributor to success
content cannot show alcohol being consumed during an activity that requires safety precautions (such as driving or operating heavy machinery).
You can read the Code in more detail here.
Evidence suggests that:
the Code and key standards are violated routinely
there is bias in decision-making
penalties are rarely handed out for advertisers who breach the Code
very few complaints are upheld.1, 2
As a result, large amounts of unchecked marketing content is publicly released, which can be potentially harmful to young people and other vulnerable populations.1, 2
Through social media, alcohol brands are now targeting young people in new ways that are even more difficult to regulate than traditional advertising.
The failure of 'age-gating'
'Age-gating' or 'age verification' technologies are protection measures used to restrict access to digital content from those that are not appropriately aged.
These techniques have been found to be ineffective on social media however, with young people able to access alcohol-related content quite easily.2
For example, a group of researchers who registered with underage profiles on YouTube had a 100% success rate when attempting to subscribe to alcoholic brands' channels. They were also able to view two-thirds of the brands' videos.11
In a separate study, fake underage profiles were able to access content posted by alcohol brands on Twitter and Instagram, and the underage Instagram profiles were able to receive alcohol-branded promotional materials.12
Aiken A, Lam T, Gilmore W, Burns L, Chikritzhs T, Lenton S, et al. Youth perceptions of alcohol advertising: are current advertising regulations working? Australian and New Zealand Journal of Public Health. 2018;42(3):234-9.
Noel JK, Sammartino CJ, Rosenthal SR. Exposure to Digital Alcohol Marketing and Alcohol Use: A Systematic Review. Journal of Studies on Alcohol and Drugs, Supplement. 2020(s19):57-67.
Noel JK, Babor TF, Robaina K. Industry self-regulation of alcohol marketing: a systematic review of content and exposure research. Addiction. 2017;112(S1):28-50.
Jernigan D, Noel J, Landon J, Thornton N, Lobstein T. Alcohol marketing and youth alcohol consumption: a systematic review of longitudinal studies published since 2008. Addiction. 2017;112(S1):7-20.
Noel J, Lazzarini Z, Robaina K, Vendrame A. Alcohol industry self-regulation: who is it really protecting? Addiction. 2017;112(S1):57-63.
Noel JK, Babor TF. Does industry self-regulation protect young people from exposure to alcohol marketing? A review of compliance and complaint studies. Addiction. 2017;112(S1):51-6.
Zarouali B, Verdoodt V, Walrave M, Poels K, Ponnet K, Lievens E. Adolescents' advertising literacy and privacy protection strategies in the context of targeted advertising on social networking sites: implications for regulation. Young Consumers. 2020;21(3):351-67.
Jones S. Regulation of alcohol advertising: Policy options for Australia. Evidence Base. 2013;2.
Weaver ERN, Wright CJC, Dietze PM, Lim MSC. 'A Drink That Makes You Feel Happier, Relaxed and Loving': Young People's Perceptions of Alcohol Advertising on Facebook. Alcohol and Alcoholism. 2016;51(4):481-6.
Barry AE, Padon AA, Whiteman SD, Hicks KK, Carreon AK, Crowell JR, et al. Alcohol Advertising on Social Media: Examining the Content of Popular Alcohol Brands on Instagram. Substance Use & Misuse. 2018;53(14):2413-20.
Barry AE, Johnson E, Rabre A, Darville G, Donovan KM, Efunbumi O. Underage Access to Online Alcohol Marketing Content: A YouTube Case Study. Alcohol and Alcoholism. 2015;50(1):89-94.
Barry AE, Bates AM, Olusanya O, Vinal CE, Martin E, Peoples JE, et al. Alcohol Marketing on Twitter and Instagram: Evidence of Directly Advertising to Youth/Adolescents. Alcohol and Alcoholism. 2016;51(4):487-92.
Curtis BL, Lookatch SJ, Ramo DE, McKay JR, Feinn RS, Kranzler HR. Meta-Analysis of the Association of Alcohol-Related Social Media Use with Alcohol Consumption and Alcohol-Related Problems in Adolescents and Young Adults. Alcohol Clin Exp Res. 2018;42(6):978-86.
Winpenny EM, Marteau TM, Nolte E. Exposure of Children and Adolescents to Alcohol Marketing on Social Media Websites. Alcohol and Alcoholism. 2014;49(2):154-9.
Mayrhofer M, Matthes J, Einwiller S, Naderer B. User generated content presenting brands on social media increases young adults' purchase intention. International Journal of Advertising. 2020;39(1):166-86.
FARE. An alcohol ad every 35 seconds. A snapshot of how the alcohol industry is using a global pandemic as a marketing opportunity. Cancer Council WA; 2020.
Carah N. Like, Comment, Share - Alcohol brand activity on Facebook. The University of Queensland, Australia: FARE; 2014.
Carah N, Brodmerkel S, Shaul M. Breaching the code: Alcohol, Facebook and self-regulation. The University of Queensland, Australia: FARE; 2015.
Stafford J, Pierce, H.Alcohol marketing in the time of COVID-19 [Internet]. drinktank: FARE. 2020.
Mattke J, Müller L, Maier C, editors. Paid, Owned and Earned Media: A Qualitative Comparative Analysis Revealing Attributes Influencing Consumer's Brand Attitude in Social Media. Proceedings of the 52nd Hawaii International Conference on System Sciences DOI; 2019.
Hendriks H, Wilmsen D, van Dalen W, Gebhardt WA. Picture Me Drinking: Alcohol-Related Posts by Instagram Influencers Popular Among Adolescents and Young Adults. Frontiers in Psychology. 2020;10(2991).
Jiménez-Castillo D, Sánchez-Fernández R. The role of digital influencers in brand recommendation: Examining their impact on engagement, expected value and purchase intention. International Journal of Information Management. 2019;49:366-76.
Lim XJ, Radzol AM, Cheah J, Wong M. The impact of social media influencers on purchase intention and the mediation effect of customer attitude. Asian Journal of Business Research. 2017;7(2):19-36.
VicHealth. Under the influence promotion of alcoholic drinks rife on social media. [updated 08 April 2019; cited 2020 30 October].
Lobstein T, Landon J, Thornton N, Jernigan D. The commercial use of digital media to market alcohol products: a narrative review. Addiction. 2017;112(S1):21-7.
Alcohol Advertising Review Board. Alcohol Advertising Review Board - Impact Report 2018 - 2019. Public Health Advocacy Institute of Western Australia; 2019.