The Power of Words
The Power of Words practical guide and desktop flip book are designed to support healthcare and other professionals working with people who use alcohol and other drugs to reduce stigma and improve health outcomes.
---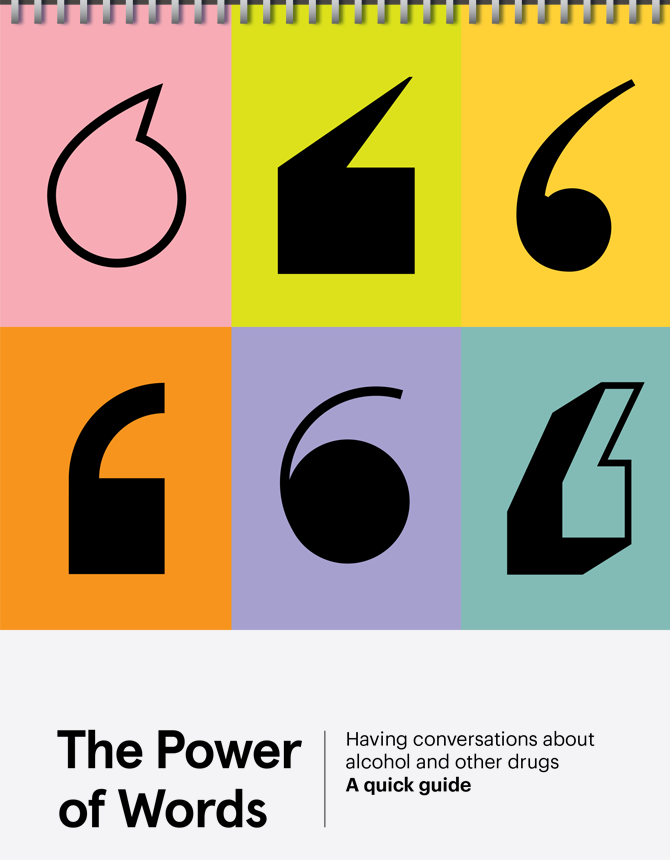 Stigma is a common and complex problem for people who use alcohol and other drugs. The World Health Organization has ranked illegal drug dependence as the most stigmatised health condition globally, with alcohol dependence listed at number four.
A resource for healthcare and other professionals
There's power in language. By focusing on people, rather than their use of alcohol and other drugs, and by choosing words that are welcoming and inclusive, professionals working with people who use alcohol and other drugs can reduce the impact of stigma.
Stigma in the form of language and actions can make people who use, or have used alcohol and other drugs, feel unwelcome and unsafe. This can stop them from seeking the services they need, which can negatively impact their health, wellbeing, employment and social outcomes.
How to use this guide
The Power of Words contains evidence-based advice on using non-stigmatising language, and features an easy-to-navigate, colour-coded directory of alternative words and phrases to suit a range of common scenarios.
It's important that consistent, appropriate language is used when speaking about alcohol and other drug use in all contexts, be it speaking directly to a client or through indirect communication to a broad audience.
Recognising this, the recommendations within Power of Words have been developed to be easily adopted by healthcare professionals as well as anyone working in management, people and culture, education, marketing, the media or social media.
The Power of Words has been produced by the Alcohol and Drug Foundation, Association of Participating Service Users/Self Help Addiction Resource Centre (APSU/SHARC), Department of Health and Human Services, Harm Reduction Victoria and Penington Institute, following an extensive review of evidence-based literature as well as focus groups with people with lived experience and their families.