July 6, 2020
Healthy eating during treatment for alcohol and other drugs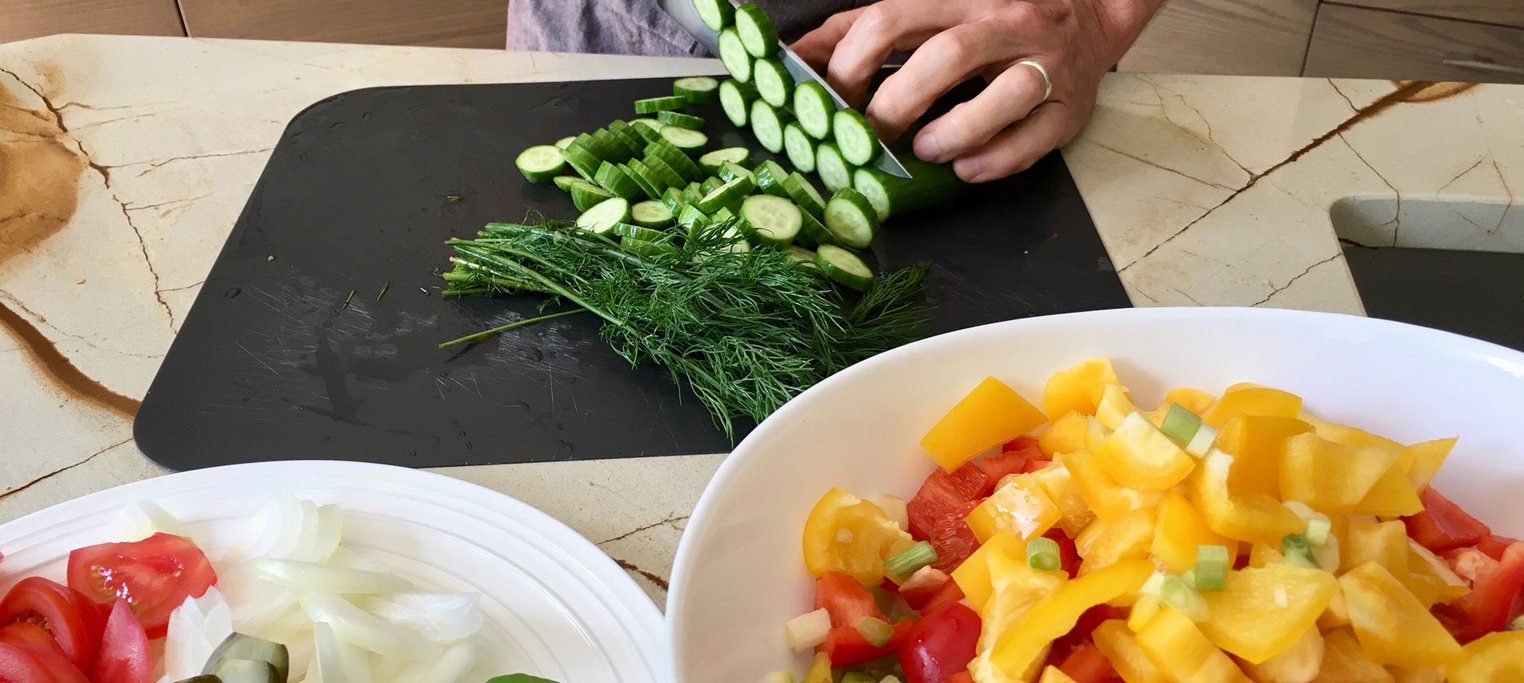 The impact alcohol or other drugs (AOD) has on a person's appetite and eating patterns can affect their health and wellbeing as well as their ability to successfully withdraw from substance use.1
For example, people with an alcohol dependence are often not interested in eating, and people who consume a large amount of cocaine or methamphetamine in a short period of time may not eat for many days, which can result in extreme weight loss, poor nutrition and dehydration.2
On the other hand, cannabis can increase appetite which may lead to increased weight from overeating.3
Poor eating habits can disrupt digestion, which can cause a range of health issues such as constipation, diarrhoea, indigestion and poor appetite.1
Regular, heavy drinking and drug use can also damage the body's organs. For example, excessive alcohol use can damage the liver and pancreas—which are needed to remove harmful toxins, regulate blood sugar and absorb fat.4, 5
The importance of nutrition during withdrawal
Healthy nutrition can often be a low priority when people are trying to overcome a drug dependence with many people focusing primarily on reducing or abstaining.
However, promoting good nutrition should be a part of the withdrawal process and ongoing treatment plan as poor dietary habits can contribute to increased cravings and the risk of relapse.
Alcohol and other drugs can damage or shut down the body's digestive processes, which can prevent the brain from receiving proper nourishment. Healthy digestion is key to good brain function.
During the early stage of withdrawal, a person with a healthy digestive system and well-nourished brain experiences fewer symptoms, which increases their chances of recovering from substance use in the longer term.1
Healthy eating habits
Nutrition experts have suggested that improving nutrition can play a role in increasing a person's chances of recovery in the longer term, so teaching people about the importance of good nutrition as part of a treatment program may improve treatment outcomes.6, 7
A varied diet rich in good carbohydrates and proteins, fresh fruit and vegetables, essential fats (oily fish, nuts) and plenty of water is suggested to help minimise withdrawal symptoms.1
Many people, however, may not be ready to focus on their nutrition while they are experiencing cravings related to alcohol or drug dependence.
Nutritionists offer the following food suggestions to help people in the latter stages of withdrawal avoid relapse and/or sustain their health in the long term.
While these suggestions may not offer any immediate feel-good effects, the benefits can contribute to a greater sense of well-being in the longer term.4
| Foods that may help reduce cravings | Foods that may help enhance mood | Foods that may help avoid relapse |
| --- | --- | --- |
| Protein (lean meat and fish) | Seafood | Salmon |
| Wholegrains | Tofu | Sardines |
| Vegetables | Oats | Anchovies |
| Peas and beans | Sardines | Mackerel |
| Lentils | Lentils | Herring |
| Brown rice | Turkey | Avocado |
| Banana | Brazil nuts | Spinach |
| Turkey | Bananas | Pumpkin, sesame, and sunflower seeds |
| Milk1 | Spinach | Evening primrose oil* |
| | Seeds | Blackcurrant seed oil*1 |
| | Milk and water1 | |
*Please consult your healthcare provider before taking dietary supplements.
Creating a healthy lifestyle
There are a number of healthy practices that people can adopt to increase their wellbeing and contribute to reducing the risk of relapse.
When recovering from a drug and alcohol dependence, it is important to avoid eating foods which are high in sugar, salt and fatty acids. Regular exercise and rest are also beneficial.1
Foods containing high levels of nutrients and vitamins can help body tissues and organs recover from the damaging effects of alcohol and drug use.1
Eating more of the following foods can also help to reduce cravings:
proteins (lean meat, fish and vegetable proteins)
complex carbohydrates (whole grains, vegetables, peas and beans)
amino acids (eggs, meat, poultry, seafood and beans)
folic acid (oranges, grapefruit, grapes, bananas, rockmelon and strawberries)
B-complex vitamins (meats, fish, poultry, milk, eggs, wholegrain breads and cereals, nuts, mushrooms).1
Avoiding relapse
Research has shown that people withdrawing from alcohol and cocaine use can help lower their risk of relapse by eating foods containing the essential fatty acids omega-6 and omega-3.
| Omega-3 foods | Omega-6 foods |
| --- | --- |
| Cold water high fat fish (salmon, sardines, anchovies, mackerel, herring, and trout) | Pine nuts |
| Flaxseed oil | Pistachio nuts |
| Walnuts and Brazil nuts | Raw sunflower seeds |
| Pumpkin seeds and sesame seeds | Evening primrose oil* |
| Avocado | Blackcurrant seed oil*1 |
| dark green leafy vegetables (kale, spinach and broccoli)1 | |
*Please consult your healthcare provider before taking dietary supplements
Adopting a range of healthy lifestyle choices can also improve a person's physical, mental and emotional state, which can help to sustain change. These include:
exercise
regular sleeping patterns
sunlight
reducing stress
a supportive network of family and friends
engaging in activities and hobbies.
Grotzkyj-Giorgi M. Nutrition and addiction – can dietary changes assist with recovery? Drugs and Alcohol Today. 2009;9(2).
Inaba D, Cohen, W. Uppers, Downers, All Arounders: Physical and Mental Effects of Psychoactive Drugs. San Francisco, Ca: CNS Productions; 2006.
Fride E, Bregman T,  Kirkham T. Endocannabinoids and food intake: newborn suckling and appetite regulation in adulthood. Experimental Biology and Medicine. 2005;230(4):225-34.
Treatment CfSA. Substance Abuse Treatment: Addressing the Specific Needs of Women. Rockville, MD: Substance Abuse and Mental Health Services Administration (US); 2009
Mossey L. Nutrition and recovery from alcoholism. Treatment choices in alcoholism and substance abuse. Lexington, MA: Lexington Books; 1990.
Western Australian Network of Alcohol and other Drug Agencies. Healthy Eating for Wellbeing: A nutrition guide for alcohol and other drug agency workers. Perth WANADA 2011.
Grant L, Haughton B, Sachan D. Nutrition education is positively associated with substance abuse treatment program outcomes. Journal of the American Dietetic Association. 2004;104(4):604-10.
---