February 17, 2017
Medically supervised injecting centres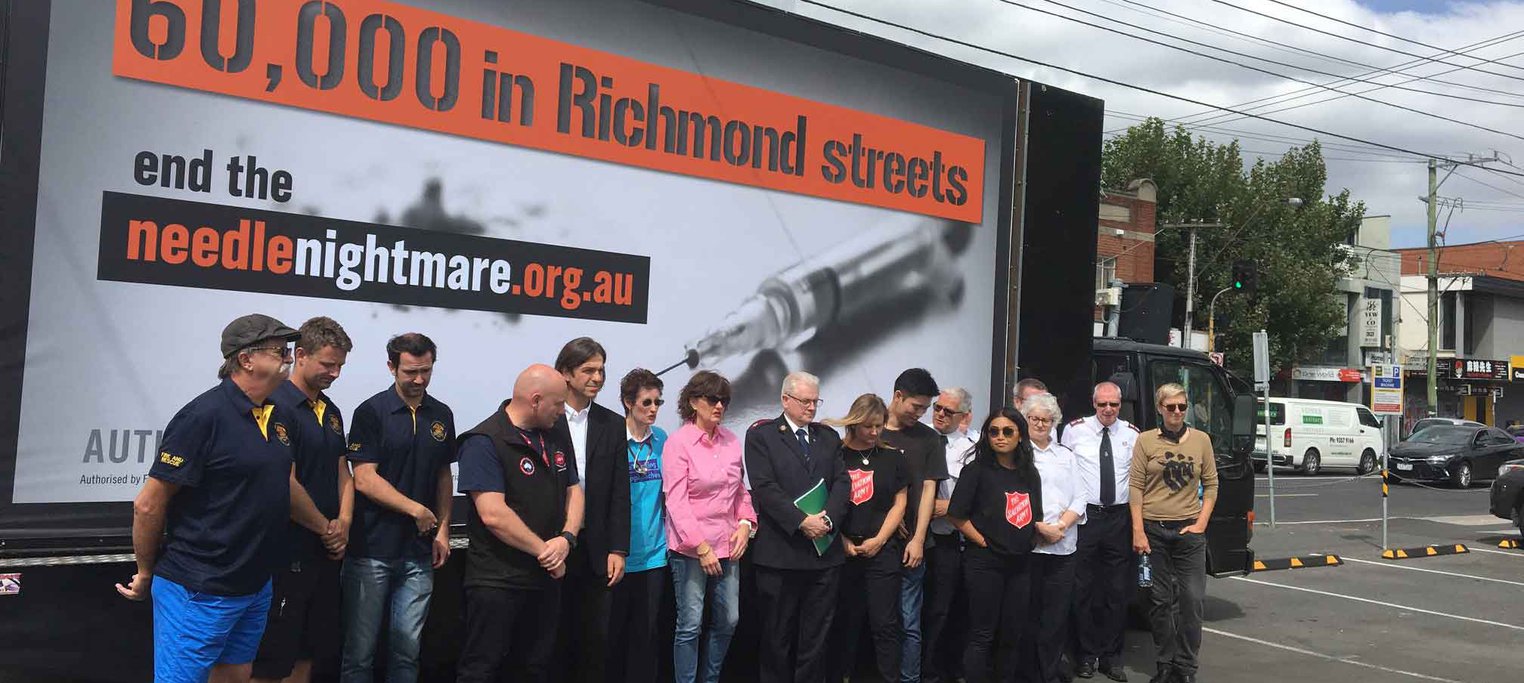 Medically supervised injecting centres (MSICs) are places where people can use drugs under the supervision of medical staff and health professionals. (MSICs are also known as supervised injecting facilities, drug consumption rooms, injecting rooms, or safe injecting facilities.)
Australia currently has one centre, in Kings Cross, Sydney, which opened in 2001. The Alcohol and Drug Foundation (ADF) has been advocating for a trial of a second Australian MSIC in North Richmond, Victoria.
While acknowledging that injecting drugs is not considered 'safe' (there are inherent risks with injecting unregulated substances), MSICs allow for a safer environment for people to inject drugs, access emergency care (if required) and obtain clean injecting equipment. The centre's offer broader health services and pathways into rehabilitation, treatment and other essential services.
Role of MSICs
Reduce health problems arising from drug use inclusive of managing overdoses, reducing risk of blood-borne viruses, reducing infections and health issues associated with non-hygienic drug use such as abscesses and other infections.
Promote education including health promotion strategies such as encouraging access to psychological supports, blood testing and education on hygiene practices and ways to reduce risks.
Improve access to services inclusive of social, health and therapeutic services to a marginalised population.
Reduce impact and trauma on the greater community who may witness public drug use and overdose.
Reduce public nuisance associated with an open scene including crime reduction, loitering and discarded drug paraphernalia.
Reduce health costs associated with drug use including a reduction of new HIV/Hepatitis infections, reduced burden on emergency services, reduced morbidity and mortality.
A secondary benefit of MSIC is the ability to provide 'real-time' drug market monitoring. The data obtained from this can be used immediately to identify trends in drugs types and purity and therefore respond to changing trends rapidly.
Success in Sydney
Evaluation of the Sydney MSIC has found that as of 2015:
more than 965,000 injections have been supervised
management of more than 5,925 overdoses without a single fatality
over 15,300 people have registered to use the centre since opening
70% of the people visiting MSIC had never accessed any local health services prior to visiting the centre
more than 12,000 referrals have been made to external health and social welfare services
the number of ambulance call outs to Kings Cross has reduced by 80% since MSIC opened
there has been no increase in crime in the Kings Cross area
the Kings Cross MSIC has been independently evaluated multiple times (all results show the centre is successful and cost effective)
the number of publicly discarded needles and syringes halved in Kings Cross after the opening of MSIC.1
Read evaluation reports from Sydney MSIC.
Vancouver
In operation since 2003, evaluations have demonstrated that this MSIC led to:
35% reduction in fatal overdoses in nearby areas2
30% increase in the use of detox services and an increase in people getting addiction treatment.3
Observable changes in public order including a reduction in public drug use and public syringe disposal.3
Where are MSICs?
The first centre was opened in Switzerland in the 1980s. There are now more than 90 centres worldwide – the majority of these are in European countries including Germany, Spain, the Netherlands, Norway, Luxembourg and Denmark. Canada has two facilities and Australia has one.
Sydney
In 2001, the Sydney Medically Supervised Injecting Centre opened in Kings Cross on a trial basis.
In 2010, after a number of evaluations, the New South Wales Government introduced legislation to lift the trial status of the Sydney MSIC allowing it to become a permanent health service.
After 16 years of operation, the Sydney centre averages around 150 visits a day and has managed nearly 6000 overdoses with no overdose fatality.
Melbourne
In October 2012, the Australian Medical Association Victoria released a Policy Paper supporting the trial of MSICs in Victoria.
In 2016, City of Yarra reiterated its support for trialling a MSIC within the municipality. This was supported by the Yarra Drug and Health Forum. Read the Yarra City Council statement on illicit drugs.
There have been renewed efforts to establish centres in Melbourne. Read The Conversation article, Why Australia needs drug consumption rooms.
In February 2017, ADF signed an Open Letter to the Victorian Parliament. Published in the Herald Sun, it contained 48 signatories from key sectors of the Victorian community calling for a trial of a MSIC in North Richmond. Signatories included the Salvation Army, Anglicare, Ambulance Employees Australia, Australian Medical Association, Royal Australian College of General Practitioners, Victorian Trades Hall Council, Yarra City Council, nurses, youth and health services, among other leading drug agencies and medical experts.
On February 20th 2017, Victorian Coroner Jacqui Hawkins handed down her findings into the overdose death of a 34 year old woman who died in a fast food restaurant toilet in Richmond in May 2016. The Coroner recommended the establishment of a supervised injecting centre trial in North Richmond and asked the Victorian State Government to take the necessary steps to establish a centre in North Richmond.
International Network of Drug Consumption Rooms. (2015). Location: Australia. Retrieved from International Network of Drug Consumption Rooms: http://www.drugconsumptionroom-international.org/index.php/locations/australia2/australia-overview
Marshall, B. D., Milloy, M. J., Wood, E., Montaner, J. S., & Kerr, T. (2011). Reduction in overdose mortality after the opening of North America's first medically supervised safer injecting facility: a retrospective population-based study. Lancet, 377, 1429-37.
Wood, E., Tyndall, M., Montaner, J., & Kerr, T. (2006). Summary of findings from the evaluation of a pilot medically supervised injecting facility. Canadian Medical Association Journal, 175(11).
Related drug information directory reviews
---