About
Celebrating more than 60 years of service to the community, the Alcohol and Drug Foundation (ADF) is Australia's leading organisation committed to inspiring positive change and delivering evidence-based approaches to minimise alcohol and drug harm.
ADF was established in 1959 to support the many post-war veterans who became dependent on alcohol as a way of coping with the trauma of war. An empathetic and humane approach has always been central to our work.
Who we are
From modest beginnings, the Alcohol and Drug Foundation continues to evolve. Trauma continues to be a major factor for individuals and communities who find themselves facing the challenge of alcohol and other drug use. To help overcome this, we focus on building safe, healthy, and resilient communities.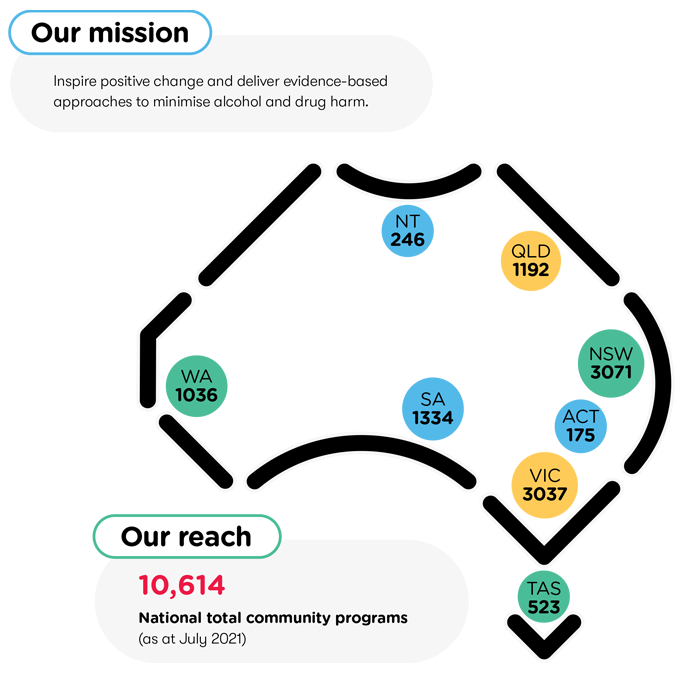 We know that strong communities are the best way to prevent future harms.
We are proudly evidence-based, independent and funded by state and federal governments. We bring expert knowledge and research into the design and implementation of our programs. We reach millions of Australians through sporting clubs, educational institutions and communities, by supporting and informing drug and alcohol prevention programs, and through the provision of educational information.
Our ongoing work aligns with the Australian National Drug Strategy that declares "efforts to promote social inclusion and resilient individuals, families and communities" are a key objective within the demand reduction pillar.
Our purpose, mission and focus
To prevent and minimise the harm caused by alcohol and other drugs in Australia.
Our people
Meet our Executive team, State managers and Board members.
Careers
The ADF offers a range of purposeful careers with positions available across the country.
Reconciliation action plan
We work to ensure Aboriginal and Torres Strait Islander communities are prioritised across the delivery of our programs and the conduct of our business.
Advocacy
Supported by the latest evidence, we advocate for change in policy and practice within government, society and business.
Media
The Alcohol and Drug Foundation's media team is readily available to help journalists with their media enquiries.